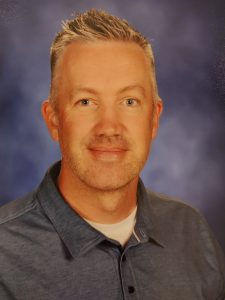 Hopefully you are all well this week. For the second week in a row we have had to cancel our Sunday Morning Worship Service and we are finding ourselves in uncharted territory. I would like to encourage you all to continue to be the Church in your neighborhoods and communities even though the physical building we usually meet at has been closed. We can all continue to ask Jesus to "say the words" to speak into the troubles or situations we continue to face each day.
Here in the Pacific Northwest the weather tends to slowly transition from one season to another. We have different seasons but in any one of those seasons we can get a wild-card day, or even week, thrown in. I can remember many summer camps I should have brought a winter coat and even last year when we had two 79-degree days, in a row, in March. I am proud to live in an area that has the ability to power through yard work, outdoor sports, hiking, camping, boating, and just about anything else outside, even with the rain or mist coming down. There is one thing we learn growing up in this part of the country though, it is best to adapt to the weather that day in order to decide what to do or how to accomplish our goals.
On our beautiful 59-degree days we have had this last week many of us have been outside. Hiking trails have been filled and people have been out walking and running in our neighborhoods. Lawns have been mowed and outdoor painting projects that have been waiting since last fall have been completed. We have been in a "season" of sunshine. During that time, we needed to act. If I didn't get my grass mowed it might not happen for another two weeks, unless I want globs of grass clogging my mower and making the job take twice as long. If I don't go for that run/jog/walk when the sun is shining, I might end up soaking wet or regretting that I missed my opportunity. There is a time to seize opportunities and take advantage of each season we are in.
I am fortunate to be a part of a great team of Young Life leaders in Federal Way, WA. We had an online video meeting this week to talk about how we can do effective ministry to the students in our area. Current conditions are not allowing us to meet together as we usually do or make face-to-face contact with students. Everyone in our community is self-quarantining and all of our usual hangouts are closed. Social distancing is expected and becoming the norm during this "season" of uncertainty and isolation. We as Christian leaders in our community are being forced to adapt and change. If we want to effectively share the love of Jesus with the students in our community, we must still find ways to meet them where they are and be an example of His love.
As I have been thinking about the season we are in as a Church I am reminded of Ecclesiastes 3:1-8.
There is a time for everything, and a season for every activity under the heavens:
a time to be born and a time to die, a time to plant and a time to uproot,
a time to kill and a time to heal, a time to tear down and a time to build,
a time to weep and a time to laugh, a time to mourn and a time to dance,
a time to scatter stones and a time to gather them, a time to embrace and a time to refrain from embracing,
a time to search and a time to give up, a time to keep and a time to throw away,
a time to tear and a time to mend, a time to be silent and a time to speak,
a time to love and a time to hate, a time for war and a time for peace.
When we are unsure of how to move forward because everything is different, we can cling to the truth in scripture. We are in a "season" right now. Unfortunately, sometimes we don't know exactly what season we are in. Usually on a beautiful day I work outside. On a cold, wet day I work inside. What do I do when I have never experienced social-distancing or self-quarantining? The feeling of isolation and inability to meet together for corporate worship are new to most of us.
I suggested last week that we could stay connected through notes and messages. This might be a "season" for you to reach out to people you haven't seen in a while or people you miss seeing every week. Maybe you write a note to a neighbor that you don't know well, letting them know you care. There can be so much encouragement that comes through in one little note that reminds us we are not alone.
This "season" might be a time for us as individuals to draw closer to Jesus. Take intentional time to pray, meditate, and have personal quiet time. We often have great ideas when we take time to listen to Jesus, funny how that works. Spend time reading scripture. When we fill our minds with God's word our thoughts and actions tend to be Godly.
As Christians, we need to figure how to seize today. The weather is what it is, we can't control it. "Seasons" change, sometimes quickly. We have an opportunity to mow our grass in the sunshine today, in the rain tomorrow, or in two weeks when the sun comes out again. There are consequences to waiting. I know I have thought many times I should have mowed yesterday, and I have been filled with regret. I missed out on a great opportunity.
At West Valley Community Church our leadership is trying to determine how we seize the opportunities we have during this "season." We are looking for ways to be creative as a Church to reach out to attenders and people in our community. We are seeking Jesus on how to take advantage of our resources and opportunities.
As we seek God as individuals with our uncertainties and anxieties, we can ask Him to take them off our shoulders (1 Peter 5:7). We have a God who can handle anything we throw at him. He can strengthen us and help us in hard times (Isaiah 41:10). We can ask Him to show us how to proceed. There will be opportunities to serve others and know Jesus better, we must be listening. The last thing we want is to look back with regret because we missed an opportunity.
Pastor Brandon